Shenzhen City Industrial Co., Ltd. Contact: Liu Jinrong Fixed: 075529966071
Mobile: 13510810460
Fax: 075529966073
Address: 5th Floor, Building 3, Guangyu Industrial Park, Xixiang Street, Baoan District, Shenzhen

Anti-counterfeiting label factory's use of texture anti-counterfeiting
Anti-counterfeiting label factory's use of texture anti-counterfeiting
Many people thinkAnti-counterfeiting label factoryIt is the same as a printing factory, and it is a manufacturer that prints labels. This perception is wrong. The label produced by the printing factory has no anti-counterfeiting effect, and the technical content of the production is not high. The anti-counterfeiting label factory adopts various anti-counterfeiting technologies and various printing methods to produce labels with anti-counterfeiting characteristics. There are many anti-counterfeiting technologies used by anti-counterfeiting label factories. Let's learn about texture anti-counterfeiting.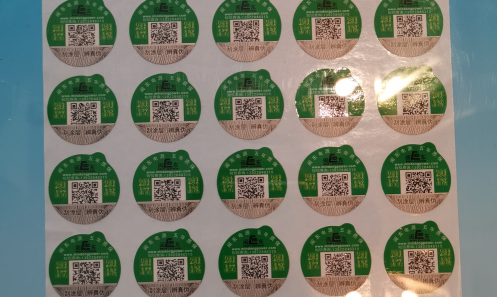 The anti-counterfeiting label factory found that texture anti-counterfeiting is a very unique anti-counterfeiting technology, which is characterized by the texture displayed by the personalized material structure of the object itself. Such as natural leaf patterns, wood grain, stone grain, human fingerprints, etc. These textures are random, unique and difficult to be copied by humans. The anti-counterfeiting label factory uses the characteristics of the natural distribution of fibers in the paper to produce labels with stable structure and clear visual characteristics, and takes pictures, numbers, and files each label, and stores it in the anti-counterfeiting database. When consumers verify the authenticity of the anti-counterfeiting label, they can retrieve the pictures stored in the database through the Internet, telephone, fax, etc., for authenticity comparison and authentication. Even the anti-counterfeiting label factory cannot produce two physical labels with the same location and color, so this kind of label is difficult to counterfeit and cannot be the target of batch copying by counterfeiters.
In addition to texture anti-counterfeiting technology, anti-counterfeiting label factories will also use anti-copy factor technology to prevent counterfeiters from copying individual anti-counterfeiting labels. The anti-counterfeiting labels we commonly see will be recorded as long as they are verified once. Moreover, the label has the function of anti-transfer, as long as it is lifted, it cannot be used again. Even counterfeiters want to exploit the loopholes of consumers not using tags. It is also not possible to move a brand new real label to a fake product. The research on anti-counterfeiting technology by anti-counterfeiting label factories continues, and the anti-counterfeiting performance of the label will become better and better.