Shenzhen City Industrial Co., Ltd. Contact: Liu Jinrong Fixed: 075529966071
Mobile: 13510810460
Fax: 075529966073
Address: 5th Floor, Building 3, Guangyu Industrial Park, Xixiang Street, Baoan District, Shenzhen

How to design anti-counterfeiting label
How to design anti-counterfeiting label
For businesses,Anti-counterfeit labelIts main function is to prevent counterfeiters from imitating products and to prove the authenticity of products. But for consumers, they do not have such a high level of anti-counterfeiting awareness, and they pay more attention to other information related to clothing on the tag. Therefore, when label manufacturers manufacture tag anti-counterfeiting labels, they must not only meet the anti-counterfeiting needs of brand owners, but also meet the information needs of consumers.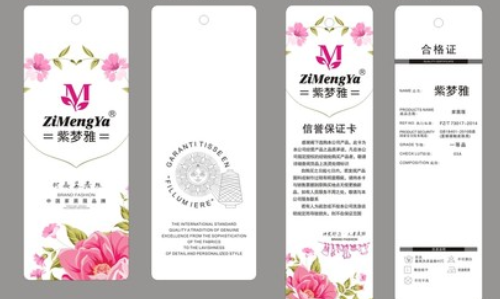 Manufacturers often use QR codes as an anti-counterfeiting method when designing anti-counterfeiting tags. Consumers can access the WeChat official account of the brand owner by scanning the QR code, and can check the authenticity of the product based on the code information next to it. After the consumer scans the QR code and pays attention to the merchant's official account, the merchant can have an additional channel to promote its own brand and products. It can be said that the design of the tag anti-counterfeiting label not only meets the anti-counterfeiting needs of businesses, but also provides them with marketing needs.
In addition to the anti-counterfeiting mark, the tag anti-counterfeiting label also has other detailed information about the product. Take the clothing industry as an example, the following relevant information must be on the label. First of all, the name, address and contact number of the company must be printed to inform consumers of the detailed information of the business. Secondly, there must be product information, including ingredient instructions, washing instructions, and some precautions. In the process of clothing sales, the anti-counterfeiting label of the tag will also be used by retailers, so there must be a relevant barcode on it to facilitate the management of the goods by the merchant.
The anti-counterfeiting label of the tag represents the image of the clothes, so the design should have a sense of beauty and fashion. There must be a sense of design in the appearance. Although most tag labels are rectangular, the material and thickness of the tag are different, and the appearance and senses reflected are different. The typesetting of the content of the tag anti-counterfeiting label is also very important and must be aesthetic. The design of the font should be comfortable, the quality of the printing should be high, and there should be no ambiguity.