Shenzhen City Industrial Co., Ltd. Contact: Liu Jinrong Fixed: 075529966071
Mobile: 13510810460
Fax: 075529966073
Address: 5th Floor, Building 3, Guangyu Industrial Park, Xixiang Street, Baoan District, Shenzhen

The use of QR code in anti-counterfeiting tag
The use of QR code in anti-counterfeiting tag
traditionalAnti-counterfeit labelIt adopts paper anti-counterfeiting, ink anti-counterfeiting and bar code anti-counterfeiting technologies. Although it has certain anti-counterfeiting effects, it also has the disadvantages of environmental pollution and easy falling off. With the continuous improvement of packaging requirements in the apparel industry, this type of label can no longer meet the needs of the industry. With the popularization of QR code in the anti-counterfeiting industry, it has also begun to be used in tag anti-counterfeiting labels to serve the clothing industry.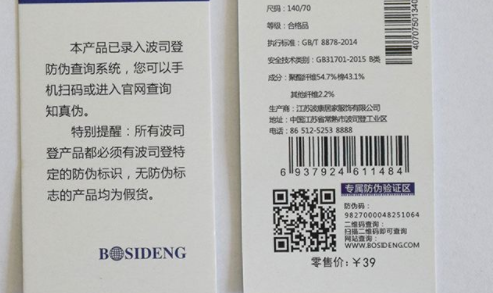 The two-dimensional code in the anti-counterfeiting label of the tag has a traceability function, which can closely connect the consumer and the source enterprise. Consumers can view the production process of the clothes as long as they scan the QR code. From the beginning of the production of garments by the manufacturer to the distribution of the distributors, it can be recorded in detail. After consumers understand the past and present of the clothes, they will be more assured when buying. The QR code in the tag anti-counterfeiting label is connected to the anti-counterfeiting system. Each piece of clothing corresponds to a code, which cannot be copied by others. When the QR code is scanned once, the anti-counterfeiting system will display it, and when it is scanned again, the time of the first scan will appear to remind consumers that it has been verified. If the consumer sees the verified information at the first scan, he must be careful because the dress may be counterfeit. The anti-counterfeiting label of the tag is imitation, and the two-dimensional code above is directly copied.

The printing technology of tag anti-counterfeiting labels has also been improved, and ink printing is no longer used. Now the more popular is the holographic technology, which prints some difficult-to-replicate printing patterns on the label, but at the same time it will not affect the scanning of the QR code. The application of this technology not only makes the label stronger, does not stain the clothes, but also improves the appearance of the clothes. I believe that with the continuous development of anti-counterfeiting technology, tag anti-counterfeiting technology will get better and better.