Shenzhen City Industrial Co., Ltd. Contact: Liu Jinrong Fixed: 075529966071
Mobile: 13510810460
Fax: 075529966073
Address: 5th Floor, Building 3, Guangyu Industrial Park, Xixiang Street, Baoan District, Shenzhen

Explanation of the steps to customize the QR code anti-counterfeiting label
Explanation of the steps to customize the QR code anti-counterfeiting label
QR code anti-counterfeiting labelNot only can it have a traceability function on the QR code, making it difficult for counterfeiters to imitate, but also can achieve anti-lifting and other technologies in printing technology. As the society uses two-dimensional codes more and more frequently, people are becoming more and more accustomed to various scanning activities. Therefore, the usage rate of QR code anti-counterfeiting labels has also become much higher. Next, we will walk into the manufacturers of anti-counterfeit labels to learn about the relevant procedures for customizing such labels.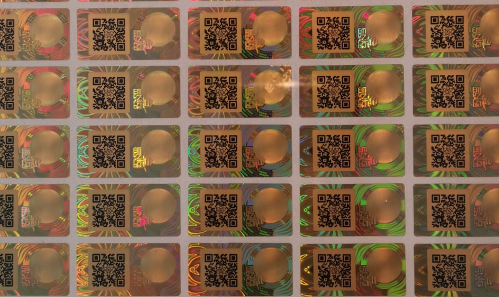 When customers consult the customized information of the QR code anti-counterfeiting label, the manufacturer will arrange professional business personnel to connect, answer various anti-counterfeiting expertise, and introduce the manufacturer's advantages and advantages. Customers will lock one or two of the anti-counterfeiting products introduced and consult the corresponding quotation. The manufacturer will provide a detailed quotation plan based on the style. Generally, the quotation and plan will go through many times of running-in, until the two parties have no objection, the cooperation contract can be signed. The two parties began to perform their respective obligations, the customer paid a certain fee, and the manufacturer began preparations for the production of QR code anti-counterfeiting labels. , The customer also needs to provide the corresponding documents of the enterprise and the LOGO needed to make the label, and then the manufacturer will typeset the QR code anti-counterfeiting label for free. After the customer finalizes the draft, the manufacturer will carry out mass production and production based on the master, and will deliver the product to the customer within the specified delivery period.
When customizing the QR code anti-counterfeiting label, there is a very important link: the customer needs to submit relevant corporate documents. Manufacturers need to review the authenticity of these documents to prevent counterfeiters from acting as brand owners to make labels. Without this link, it is equivalent to label manufacturers serving counterfeiters and providing them with technology. This will disrupt the anti-counterfeiting market and make the QR code anti-counterfeiting labels no longer have anti-counterfeiting effects. Therefore, manufacturers must strictly check.