Shenzhen City Industrial Co., Ltd. Contact: Liu Jinrong Fixed: 075529966071
Mobile: 13510810460
Fax: 075529966073
Address: 5th Floor, Building 3, Guangyu Industrial Park, Xixiang Street, Baoan District, Shenzhen

Application of humidity sensitive technology in laser anti-counterfeiting labels
Application of humidity sensitive technology in laser anti-counterfeiting labels
On the marketLaser security labelThe variety is very rich. In order to meet the needs of customers, many label manufacturers will develop products with different styles and different anti-counterfeiting technologies. With the continuous changes of the times, many previously popular anti-counterfeiting technologies have now been mastered by many people, and they have lost their anti-counterfeiting functions. Label manufacturers are also constantly developing new anti-counterfeiting technologies, so that products such as laser anti-counterfeiting labels have better anti-counterfeiting performance.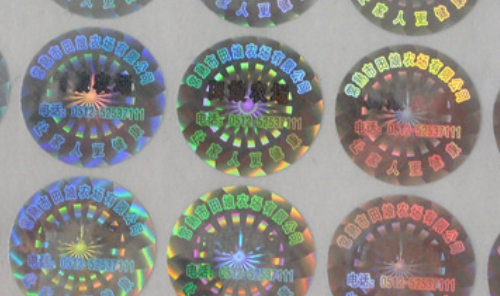 Among the anti-counterfeiting technologies newly adopted by laser anti-counterfeiting labels, moisture sensitive technology has its uniqueness. It uses unique moisture-sensitive materials, through a special process, to encrypt the graphic information, and then through printing, spraying, coating and hot pressing and other processing procedures to produce anti-counterfeiting products. When it is applied to the laser anti-counterfeiting label, it can make the label have the characteristics of large output and fast speed, which is especially suitable for customers with large-volume demand.
The application of moisture-sensitive technology to laser anti-counterfeiting labels will make label verification more difficult to counterfeit. The manufacturer prints the hidden graphic information under the moisture-sensitive material coating, and the graphic information is not displayed under normal conditions. But if a colorless liquid such as water or wine is applied to the laser anti-counterfeiting label, the hidden information can be displayed immediately. The information displayed is very clear and comprehensive, and when the liquid dries, it returns to the original state. In addition, when the wet laser anti-counterfeiting label is placed under a purple light, it will also show the effect of fluorescence, which can be used as a method for secondary verification of authenticity. This humidity-sensitive technology can also be combined with other anti-counterfeiting technologies, such as layered anti-transfer technology. When multiple anti-counterfeiting technologies are combined, although the cost of laser anti-counterfeiting labels may become higher, its anti-counterfeiting effect will be very significant.