Shenzhen City Industrial Co., Ltd. Contact: Liu Jinrong Fixed: 075529966071
Mobile: 13510810460
Fax: 075529966073
Address: 5th Floor, Building 3, Guangyu Industrial Park, Xixiang Street, Baoan District, Shenzhen

Why is the QR code anti-counterfeiting label the future anti-counterfeiting trend
Why is the QR code anti-counterfeiting label the future anti-counterfeiting trend
QR code anti-counterfeiting labelIt has been more than ten years since it was first launched. During this time, it has undergone great changes. Both the improvement of anti-counterfeiting technology and people's recognition of it have greatly improved. There are many anti-counterfeiting technologies on the market, and the types of anti-counterfeiting labels are also abundant. However, many people think that the development prospects of QR code anti-counterfeiting labels are very impressive and will be a trend in the future.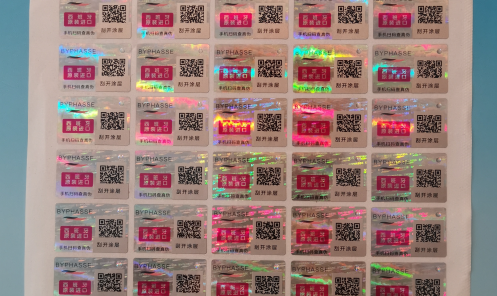 According to the current usage of the QR code anti-counterfeiting label, we will find that it is widely welcomed by consumers. Among the many anti-counterfeiting labels that have been verified, the QR code label has been verified more often. For consumers, the query method of the QR code anti-counterfeiting label is very simple, convenient, fast and interesting, and they are happy to scan it. Other tabs also need to open the corresponding website or call, which takes too long.
The anti-counterfeiting technology of the two-dimensional code anti-counterfeiting label is not complicated, but the anti-counterfeiting is very high, and it is difficult for counterfeiters to copy it. For manufacturers of anti-counterfeiting labels, this simple production method is not difficult to achieve. It does not have high requirements for equipment, and ordinary production equipment is sufficient, and there is no need for special requirements for labor. Therefore, manufacturers are also willing to produce QR code anti-counterfeiting labels, and they are also willing to become a future development trend.
The production cost of QR code anti-counterfeiting labels is not high, which is a very happy thing for many businesses. Because anti-counterfeiting expenditure is the cost of the product, if the anti-counterfeiting effect is good, they will be more willing to choose a lower cost anti-counterfeiting method. In addition, some businesses will not only use this anti-counterfeiting label for product and brand promotion, but also use it for consumer surveys. From the perspectives of consumers, label manufacturers, and merchants, the QR code anti-counterfeiting label is very popular, and it will occupy more shares in the future market.