Shenzhen City Industrial Co., Ltd. Contact: Liu Jinrong Fixed: 075529966071
Mobile: 13510810460
Fax: 075529966073
Address: 5th Floor, Building 3, Guangyu Industrial Park, Xixiang Street, Baoan District, Shenzhen

Why is it difficult to apply nuclear film to laser security labels
Why is it difficult to apply nuclear film to laser security labels
Laser security labelThe production process is more complicated. First, manufacturers and businesses need to determine the manuscript to determine the anti-counterfeiting process. Secondly, the manufacturer will produce a color-blind film according to the negotiated requirements, and use it as the master for mass production of anti-counterfeiting labels. Then make a small board according to the manuscript, and perform processes such as electroforming, imposition, molding and perforation on the label. Whether a laser anti-counterfeiting label can be successfully produced is related to whether its anti-counterfeiting technology can be produced.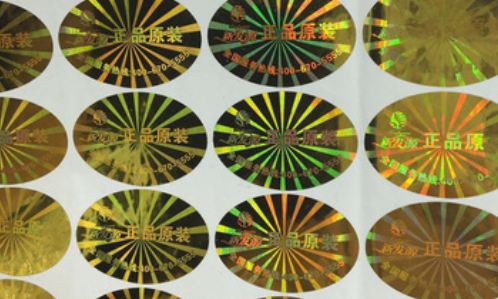 Among the many anti-counterfeiting technologies used by laser anti-counterfeiting labels, nuclear porous film is a very effective anti-counterfeiting method, but it is difficult to realize production. The nuclear porous film is a process of perforating the plastic film of the anti-counterfeiting label using nuclear technology, and this kind of micro-holes will form a specific pattern. The manufacture of nuclear porous membranes requires advanced nuclear technology and expensive nuclear facilities. These sensitive nuclear facilities are controlled by my country's large nuclear technology research institutions. This technology is not only difficult for counterfeiters to own, but ordinary private label factories have no conditions to own. Even if the manufacturer has the talents to develop this technology, nuclear equipment is not the equipment it can develop, so this technology is difficult to apply to laser anti-counterfeiting labels. This technology is generally applied by the government to a product with a very high level of anti-counterfeiting, such as RMB.
Although nuclear porous film is not suitable for laser anti-counterfeiting labels, there are still many anti-counterfeiting technologies on the market that can be used, such as moisture sensitive technology, nanotechnology and fluorescent technology. In the process of producing and manufacturing anti-counterfeiting labels, manufacturers and businesses will not only consider the anti-counterfeiting performance of the label, but also consider the production cost of the label. The label is only used as an anti-counterfeiting means for the product, and it cannot actually bring benefits to the product. Therefore, many businesses will choose some laser anti-counterfeiting labels with relatively low cost and general anti-counterfeiting performance.