Shenzhen City Industrial Co., Ltd. Contact: Liu Jinrong Fixed: 075529966071
Mobile: 13510810460
Fax: 075529966073
Address: 5th Floor, Building 3, Guangyu Industrial Park, Xixiang Street, Baoan District, Shenzhen

Explanation of knowledge about QR code anti-counterfeiting labels
Explanation of knowledge about QR code anti-counterfeiting labels
Currently on the marketQR code anti-counterfeiting labelThere are two ways of printing. One is to print the two-dimensional code on the label, and then print the query serial code on the side and spray it on the top with a special ink. The other is to print the two-dimensional code on the label, and then stick the query serial code with labeling technology on the side. As long as the label is lifted, it cannot be used again. Regardless of the printing method used for the QR code anti-counterfeiting label, the QR code is inseparable. Let's learn more about the types of the QR code below.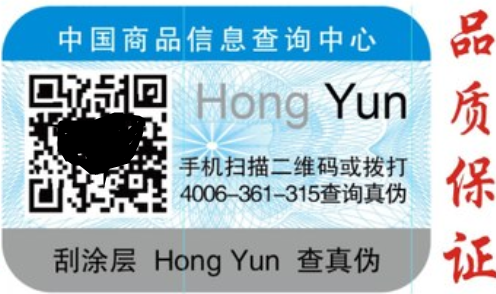 Although the two-dimensional code of the two-dimensional code anti-counterfeiting label has a small area, it can carry a large amount of information, and it can contain information such as the place of origin, dealers, and relevant certification materials. This QR code is not only widely used in the anti-counterfeiting industry, but also seen everywhere in our daily lives. According to the coding principle and structure difference of two-dimensional codes, two-dimensional codes can be divided into superposition type and matrix type.
Some people say that the two-dimensional code anti-counterfeiting label is developed on the basis of one-dimensional code, here is the superimposed two-dimensional code. The superimposed two-dimensional code bar code combines space and thread, and consists of one-dimensional bar code and multiple short lines. It inherits some characteristics of one-dimensional barcodes in terms of code design and verification principles. The reading equipment and barcode printing are compatible with one-dimensional barcode technology. Among them, pdf417, codel6k and code49 are more representative codes, and they are often used in QR code anti-counterfeiting labels.
The matrix two-dimensional code in the two-dimensional code anti-counterfeiting label is a computer image processing technology based on the principle of combined coding, which is a new type of automatic reading and processing coding system for graphic symbols. The space is composed of dots in the form of a matrix. The appearance of dots represents the binary 1 of the corresponding element position in the matrix, and the appearance of blank represents the binary 0. The meaning of the code is determined by the arrangement and combination of points. Representative matrix two-dimensional barcodes include data matrix and QR code, etc. They are also used in a lot of two-dimensional code anti-counterfeiting labels.