Shenzhen City Industrial Co., Ltd. Contact: Liu Jinrong Fixed: 075529966071
Mobile: 13510810460
Fax: 075529966073
Address: 5th Floor, Building 3, Guangyu Industrial Park, Xixiang Street, Baoan District, Shenzhen

The meaning of anti-counterfeiting QR code
The meaning of anti-counterfeiting QR code
Anti-counterfeiting QR CodeThere are many manufacturers in China. Some manufacturers have general anti-counterfeiting technology, which is easy to be broken by counterfeiters, and some manufacturers have strong anti-counterfeiting technology, which makes counterfeit companies unable to start. In order to improve the anti-counterfeiting performance of the anti-counterfeit QR code, and to enhance market competitiveness, many manufacturers will cooperate with university research institutions. Today, let's learn more about the role of anti-counterfeiting QR codes in all sectors of society and the significance of their existence.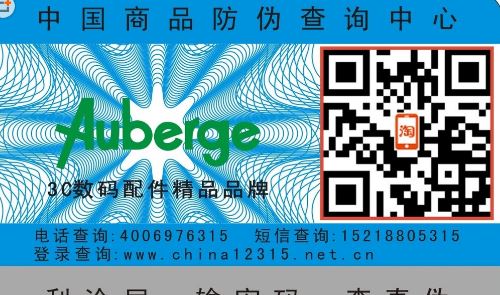 The anti-counterfeiting QR code is a protective umbrella for brand owners and plays an important role in brand protection and corporate strategic development. According to investigations by relevant institutions, more than 30% of enterprises in my country have product infringements, especially some products with relatively high value of tobacco and alcohol. The sales of fake goods every year bring great economic losses to these brand owners, so the anti-counterfeiting QR code can protect their economic benefits.
Anti-counterfeiting QR codes can also increase tax revenue for the government. my country's annual counterfeit goods market capacity can be as high as 133 billion yuan, which will result in a tax loss of 23 billion yuan. Therefore, the relevant government departments are fighting against fake goods. of. The mature use of anti-counterfeiting QR codes can also enhance the patent awareness of the Chinese people and improve the quality of the people, making everyone aware that counterfeiting is a very shameful and undesirable thing.
Anti-counterfeiting QR codes are a kind of protection of rights and interests for consumers, allowing them to buy genuine brand products. Many consumers who like to drink have a deep understanding of this. When they buy liquor, they will use anti-counterfeiting QR codes and other anti-counterfeiting methods to verify whether the product is a side product. In many cases, fake wines can be found in time through inspections, which can protect their legitimate rights and interests. If there is no anti-counterfeiting QR code, then consumers can only recognize the fake wine.