Shenzhen City Industrial Co., Ltd. Contact: Liu Jinrong Fixed: 075529966071
Mobile: 13510810460
Fax: 075529966073
Address: 5th Floor, Building 3, Guangyu Industrial Park, Xixiang Street, Baoan District, Shenzhen

Explanation of holographic anti-counterfeit label paper
Explanation of holographic anti-counterfeit label paper
Holographic anti-counterfeit labelIt is a relatively advanced type of anti-counterfeiting label, which is jointly produced by laser color holographic plate-making technology and molded copy technology. At present, there are many printing technologies used by anti-counterfeiting label factories on the market, including microprinting, dot matrix dynamic light, and multi-color optical random interference. The reason why these printing technologies can make holographic anti-counterfeiting labels play a better role is because of the improvement of label paper.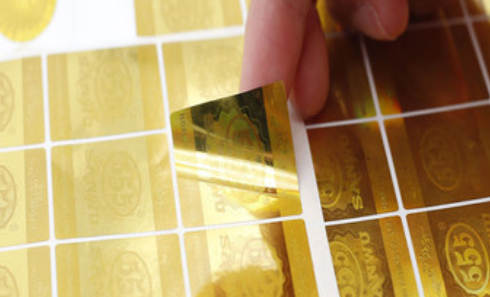 There are many papers that can be used for holographic anti-counterfeiting labels. The commonly used ones are holographic paper and watermarked paper. Today, we will learn more about the characteristics of holographic paper. Holographic paper can make anti-counterfeiting patterns and information directly on the paper, and no longer need a layer of plastic film to cover the surface of the paper. This kind of holographic paper has the function of anti-copy, thus reducing the probability of anti-counterfeiting label being copied. Manufacturers of holographic anti-counterfeiting labels will not only design and produce patterns on holographic paper according to the requirements of brand owners, but also provide paper of different textures and weights as required. From this level of customization, it increases the cost and difficulty of imitation by counterfeiters. People who have used holographic anti-counterfeiting labels should have such experience, no matter from which angle they look at the label, they can see different patterns and colors, which is very beautiful. Therefore, many people use holographic paper as the outer packaging of the product, and it is also loved by consumers.

After using this kind of holographic paper, the production cost of holographic anti-counterfeiting labels has increased, but the cost of holographic paper only accounts for one-tenth of the total production cost. In addition, manufacturers no longer need to hire people to stick labels, so the overall production cost of anti-counterfeiting labels will not rise too much, which is acceptable to brand owners. Holographic paper also has the function of environmental protection. Even if it is discarded by consumers, it can be degraded. Compared with the holographic anti-counterfeiting label containing plastic film, its damage to the environment is very small.