Shenzhen City Industrial Co., Ltd. Contact: Liu Jinrong Fixed: 075529966071
Mobile: 13510810460
Fax: 075529966073
Address: 5th Floor, Building 3, Guangyu Industrial Park, Xixiang Street, Baoan District, Shenzhen

Why print a bare security QR code
Why print a bare security QR code
Anti-counterfeiting QR CodeIt is a carrier box with large storage capacity, high traceability, and low production cost, which can carry a large amount of commodity information. The surface of this anti-counterfeiting QR code is often covered by something, and the information inside is confidential, and generally requires some auxiliary methods to view it. However, some experts have suggested that the anti-counterfeit QR code should be exposed when printed and should not be covered with something.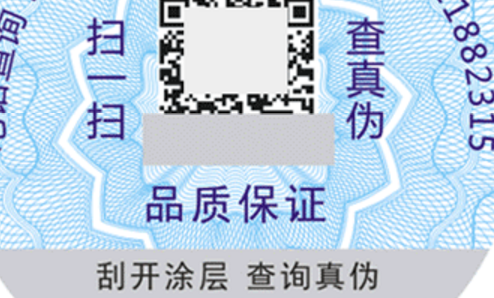 The real anti-counterfeiting QR code is easy to be recycled by counterfeiters and used on fake products. If the QR code has not been verified, the fake product cannot be detected as fake. In order to prevent this problem, the anti-counterfeiting QR code should be exposed. Because the QR code is exposed, counterfeiters have no way to judge whether the anti-counterfeiting label has been scanned with the naked eye, and they dare not use it with confidence. Moreover, when they recycle these anti-counterfeit QR codes, they cannot be further verified with mobile phones or other scanning devices. As long as they are scanned, the anti-counterfeit labels will be recorded, and the next time they are scanned, they will be displayed as verified. When the scanned anti-counterfeiting label is applied to a fake product, consumers can know that the product is a fake product by scanning it, and naturally they will not buy it, and consumers may also complain to the merchant or the person who sells the counterfeit, and the relevant departments Shun Teng can find counterfeiters.
The anti-counterfeit QR code has many measures to prevent it from being recycled by criminals, such as placing more than two anti-counterfeiting labels on the product, so it is difficult for counterfeiters to copy the two labels together. Just note that these two anti-counterfeiting QR codes should use different printing processes and cannot be printed on the same level of packaging. Nowadays, many experts and scholars in the society are constantly studying QR codes, and strive to increase the confidentiality and anti-counterfeiting of the QR codes. Many manufacturers are also improving the printing techniques and strive to increase the number of counterfeiters that copy anti-counterfeiting QR codes. cost.